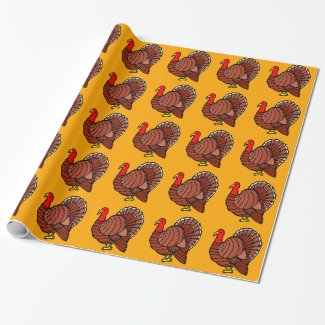 Turkey Side Profile On Golden
Yellow Wrapping Paper.
A fun cartoon turkey facing sideways on a
golden yellow background.
Great for Thanksgiving turkey lovers!
Glossy Wrapping Paper
For a gift second to none, wrap it up in beautiful and high quality custom wrapping paper. Choose from 4 types of paper and 5 sizes. Made and printed in the USA!
64lb text weight glossy paper.
Highest gloss paper.
Vibrant print quality ideal for photo designs.
Vivid, full-color print-to-the-edge printing.
Rolls are 30" wide and can be ordered in various lengths from 6 feet to 60 feet.
Each roll can print up to 15' – when you order 30'x 30" it will ship as two 15' rolls; 45' roll ship as three 15' rolls, 60' roll ship as four 15' rolls.
6' roll wraps 3 shirt sized boxes, 15' roll wraps 9 shirt sized boxes, 30' roll wraps 18 shirt sized boxes, 45' roll wraps 27 shirt sized boxes, 60' roll wraps 36 shirt sized boxes.
Available in Matt and Linen papers.
Printed and made in the USA.