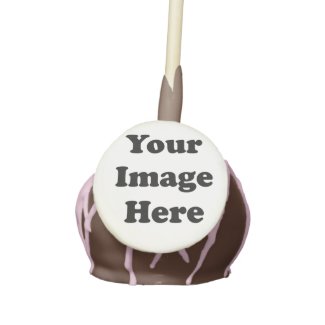 Custom Blank Template Dozen
Chocolate Cake Pops.
Replace this image with a photo of your own. You can customize with your own words and special dates too! Have fun and create something personal and unique!
Chocolate Cake Pops.
Filling Flavor:

Chocolate
Make your party pop with a dozen bite-sized desserts from Veronica's Treats! Handmade with a secret combination of ingredients, these cake pops are insanely moist and extraordinarily delicious! Choose from three cake flavors, three flavors of icing, and ten drizzle colors to custom build a cake pop that suits your taste. Then, customize the front of your cake pops with designs or photos to match your occasion or theme. These cake pops are great as party treats, favors, or gifts!
NET WT 1.75oz (50g).
Each cake pop consists of moist, baked cake mixed with just the right amount of cream cheese frosting.
Cake pops are made to order and stay fresh for up to six weeks.
Cake filling flavors: Chocolate, Vanilla, Red Velvet.
Chocolate icing flavors: Milk Chocolate, Dark Chocolate, White Chocolate.
10 drizzle colors to choose from.
Customized designs are printed on white edible icing and placed over a cookie base measuring 1.25" in diameter.
Note: Between May 1 – September 30, Cake Pops are shipped in a food safe, reusable foam cooler with Koolit Gel icepack to ensure freshness and maximum protection. With careful packaging, your desserts are guaranteed to arrive in perfect condition!
Not labeled for retail sale.
Distributed by: Veronica's Treats- 31 West Grove Street, Middleboro, MA 02346.