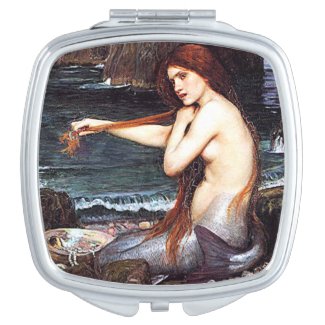 Mermaid On The Shore Makeup Mirrors
by
mermaidsparadise
View more
Mermaid Compact Mirror
Mermaid On The Shore
Makeup Mirrors.
A beautiful mermaid combing her long hair
whilst sat on the shore with shells and pearls.
The Mermaid was painted by John William Waterhouse
in 1901, hence the vintage crackle in the paint.
Square Compact Mirror
A compact mirror for stylish touch-ups while on the go! Available in round, square, oval and heart shapes, this luxurious compact mirror features an all-metal construction and two interior glass mirrors. Personalize the compact mirror with your name for a one-of-a-kind accessory that fits perfectly in your purse!
Dimensions: 3" l x 2.6" w x 0.3"d (square).
Designs printed in full color on metal insert on front of compact mirror.
Opens up with two glass mirrors.