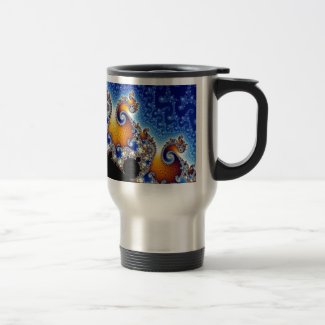 Mandelbrot Blue Double Spiral Fractal Mug
by
stargiftshop
Design your own
personalised cup
from Zazzle.
Mandelbrot Blue Double Spiral Fractal Travel Mug.
A Mandelbrot satellite double spiral fractal pattern in blues, yellows and black.
Travel/Commuter Mug
Be in style when you're on the go with our stainless steel travel/commuter mug. This spill-proof commuter mug has a removable plastic top and looks good adorned with your favorite picture or text. Hand wash only. Imported.
Get more Fractal gifts by visiting:
http://www.zazzle.com/stargiftshop