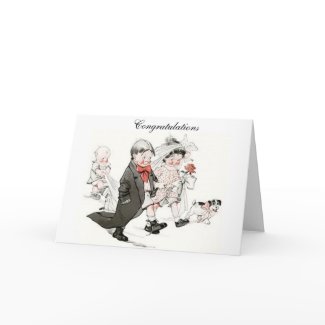 Cute Children Doing The Wedding March Greeting Card
by
stargiftshop
Create card
designs on Zazzle
$3.15
These very cute children are pretending to do the wedding march. With big bows and a little puppy this is sure to be a sweet way to celebrate a wedding! Customize with names, dates and any details.
Greeting Card
Keep in touch with Zazzle custom greeting cards. Customize all parts of this folded card – inside and out, front and back – for free!
5" x 7" (portrait) or 7" x 5" (landscape).
Printed on ultra-heavyweight (120 lb.) card stock with a gloss finish.
Each card comes with a white envelope.
No minimum order.
May be available on Note Card size
Postage rate for this size card (up to 1 oz) is $0.45
This designer's unique "groom" and "wedding" custom card is just one of many customizable designs composed at Zazzle. Showcased in stargiftshop's Weddings shop section, this particular custom card, which is properly called the "cute children doing the wedding march card", is an impressive sampling of the cute children doing the wedding march designs in the community marketplace. This customizable card template is perfect for any occasion and it will also be a great option for anyone shopping for bride designs. If you like this card, look for similar items available in the vintage bride, bride, vintage groom, or groom card pages of the site or take a look in the designer's Zazzle store. Printed onto high quality card stock, the stunning "vintage bride" card shown above is marvelous for all kinds of greetings. Displayed above, this Zazzle designer's wedding concept will be printed using a proprietary custom card production technique that is renowned for the clear images that it is able to deliver. Just 1 of millions of options offered at Zazzle, this card will look delightful no matter what is written inside. With these characteristics, this groom design is a typical example of the large range of gorgeous wedding designs available just for you!
www.zazzle.com/stargiftshop+weddings